I met Sudha Shah in Mumbai in 2008, at the launch of Sea of Poppies. We had a brief conversation in the course of which she told me that The Glass Palace had inspired her to work on a book of her own: a non-fiction account of the lives of King Thibaw, the last monarch of Mandalay, and his wife Queen Supayalat and their family. This immediately caught my interest for I have long felt that such a book needs to be written, so I did something I very rarely do: I offered to read the manuscript.
I next heard from Sudha on Sept 23, 2010 when she sent this letter to my website:
Dear Amitav,
Your book The Glass Palace so captivated me that I was inspired to research and write the biography of King Thibaw and his family. My book tells the story of King Thibaw's intrigue-filled seven-year rule, the loss of his throne, and his family's life during and after their exile.The raison d'être of the book is to provide an insight into, firstly, how an all-powerful and very wealthy family coped with forced isolation and separation from all that it had once known and cherished; and, secondly, how the exile continued to echo in the life of the family in a myriad ways well after it ended. My sources include in-depth interviews with King Thibaw's descendants including four of his grandchildren, two of whom are now deceased; extensive interviews in Ratnagiri, Kalimpong, Kolkata, Mumbai, Yangon, and  Pyin Oo Lwin; libraries, newspaper records and  government archives  in Mumbai, London, Yangon and New Delhi; published material; and  letters, articles, family photographs and  other material given to me  by two Burmese historians and by members  of the late king's family.  I have been working on the book for the last six years and have very recently handed over the manuscript to HarperCollins (India), who will be publishing it.
When I met you at the launch of your book Sea of Poppies in Mumbai, you had very generously offered to read my manuscript. May I take you up on your offer now? I would really appreciate your comments   and, if you feel it appropriate after reading the manuscript, a   blurb from you for my book would mean the world to me!
I look forward to hearing from you.
Sincerely,
Sudha Shah
I wrote back to explain that I'd stopped doing blurbs some years before, because I'd found myself in a situation where I was doing too many and it was taking up too much of my time. But I renewed my offer to read the ms and I also said that if I liked it I would write about it on my blog.
The proofs of Sudha's book, which is soon to be published by Harper Collins India, arrived in my mailbox last month. The book is called The King in Exile: The Fall of the Royal Family of Burma.
The book was well worth the wait for it is an absorbing read. Exhaustively researched and gracefully written The King in Exile tells a story of compelling human interest, filled with drama, pathos and tragedy.
The King in Exile heralds the arrival of a writer of non-fiction who is both uncommonly talented and exceptionally diligent. Sudha Shah is clearly an indefatigable researcher and in the seven years it took to write this book she seems to have spared no effort in exhuming the lives of King Thibaw, Queen Supayalat and their four daughters.
Perhaps the most heart-rending narrative is that of the First Princess, the royal couple's oldest daughter. The Princess fell in love with Gopal Sawant, a youth from Ratnagiri who was employed as a gatekeeper in King Thibaw's residence. She bore him a daughter called Tu-tu, and long after King Thibaw's death, when the rest of the family had left Ratnagiri, she rejoined him there with her daughter. Sawant's resources were limited and he had another wife and family; the Princess and Tu-tu were installed in another house where he would visit her once a day. 'For the rest of her life,' writes Sudha, 'people would see her pacing up and down, her hands clasped behind her back, her lips moving in prayer. When seated, she would tell her beads. As an act of merit, she would share her meagre rations with any poor person passing by; sometimes all she had to give was 'half a slice of bread'. The townspeople, seeing her piety and her distress, viewed her with newfound compassion and sympathy. Although sorry for her, they never reached out to her.' (p. 255)
The Princess's daughter, Tu-tu, also married a local man, Shankar Yeshwant Pawar; he too had once been an employee of the royal family. After Tutu's marriage the princess, now truly alone 'turned to local young children for some companionship. Some of these children, now adults in their seventies and eighties, still have vivid though limited memories of her. One gentleman, who used to see her regularly, recalls that every evening 'she used to hand out biscuits to kids and biscuits were rare in Ratnagiri in those days'. He remembers she would invite him and his friends into her home, which consisted of three very bare rooms with a chair or two, a stool and a cupboard. He does not remember a bed and says she slept on the floor. For an hour or so every evening the boys would play boisterously in her house, shattering the deafening silence that usually permeated it, and inadvertently providing her with a measure of distraction and a semblance of belonging. Although she and the boys had nothing much to say to each other, he recalls her attempts to talk to them in her foreign-accented, broken Marathi which was not always easy to follow. He says she called Gopal 'Shivrekar' (as did many in Ratnagiri), and she would tell the children, 'Shivrekar has taken my money and gone.' He describes how she waited 'every evening at her door for Shivrekar. When she would see him coming she would chase the kids away, saying in Marathi "Shivrekar alle! Shivrekar alle!"(Shivrekar's come! Shivrekar's come!).'  It was clear she wanted the children gone before Gopal reached her door; it was clear she sought and needed his company.' (p. 244)
Tutu's life was no less difficult than her mother's. She had nine children with Shankar of whom seven survived: 'About four years older than Tu Tu, Shankar was a gentle and warm man who unfortunately gradually became an alcoholic.  In spite of his addiction, Shankar did hold down a job most of his life,  but sadly, he squandered away much of his salary on drinking binges,  and it was Tu Tu who had to eke out a living, in addition to looking after her perpetually growing family and her lonely ageing mother… She raised ducks and goats for sale.  And, with her children's help, she grew and harvested paddy on the land on which she lived.  People in Ratnagiri say that Tu Tu was never ashamed or embarrassed to do any kind of work. They remember her setting out, basket on hip, to salvage discarded scraps from around town to recycle; they remember her collecting cow dung, to pat into cakes to sell as fuel. She disregarded exclamations of 'Look at the princess now making cow dung cakes!' and soldiered on. According to one of her ex-neighbours Tu Tu had two strains of genes: royal and worker. The worker genes were apparent in the hard work she relentlessly put in every day; the royal genes were apparent in her regal bearing and her generosity, which reminded people of her mother, the First Princess, and her grandfather, King Thibaw.  Tu Tu did not let a harsh and impoverished existence kill her innate generosity and kindness… Perhaps because she had felt unloved and stigmatized as a child, Tu Tu had tremendous compassion for unwanted babies. Numerous unwed mothers, from in and around Ratnagiri, would silently leave their newborns on Tu Tu's doorstep, secure in the knowledge that she would take the baby in and look after it.' (p.254-55)
In 1999, at the age of 93, Tutu and her family found themselves embroiled in a property dispute and were evicted from their land: 'To enforce the eviction, a posse of five policemen and one lady constable arrived unannounced a few days before Diwali in 1999 and physically dragged the then ninety-three year old Tu Tu and her family out, and threw their possessions off the property. Demolition of the house began that very instant, with the roof and the Dattaguru shrine being destroyed in the family's presence. A devastated Tu Tu refused to budge and stayed next to her broken hut for three nights… Like her mother, she believed that the royal residence in Ratnagiri belonged rightfully to her family and that the government had appropriated it without any compensation. She felt that as King Thibaw's granddaughter, she was entitled to some help—financial, housing—from the government and it frustrated her that this help never came, and that she had to live in poverty in a small hut almost all her life. When even this inadequate hut was cruelly snatched from her, she sentimentally pleaded that she be allowed, for old time's sake, to spend just one day in the royal residence that had been her childhood home. 'After spending a day in the Palace I will die happily,' she said to a journalist. But the Indian government, for various bureaucratic reasons, was unable to grant this request to the dying woman who had given so much of herself to the town of Ratnagiri.' (p. 260).
Tutu died, the author tells us, a few months later, 'in the garage cum residence where her son Chandu still lives with his family.'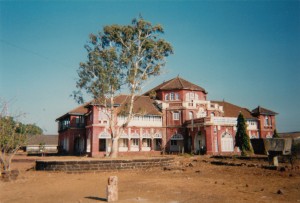 The  British had their reasons for keeping the royal family out of sight: they were afraid the dynasty would become the focus of resistance to colonial rule in Burma. They understood very well that in a realm composed of a dense patchwork of communities and ethnicities, a monarchical tradition could serve as a binding thread. One of the contributions of The King in Exile is that it show the anxieties of the British to be well-founded: it is evident from Sudha's research that the dynasty's appeal did not end with the fall of the monarchy. Even after the King Thebaw's death, British administrators in Burma were careful to keep the royal family under wraps.
But perhaps the most startling revelation (or rather suggestion) in the book is that the British might also have tried, at the very end of colonial rule, to use the royal family to counter the nationalist movement that was headed by General Aung San (Daw Suu Kyi's father).
Prince Taw Phaya Galae, a descendant of the royal family told Sudha that in 1945 the 'Home Minister Sir Paw Tun… approached his eldest brother with the proposal that if Prince Taw Phaya Gyi agreed 'to join hands with the British Government to suppress Aung San, I [Sir Paw Tun] will take care of the matter that Prince Taw Phaya Gyi should become King-designate'. A shocked Prince Taw Phaya Gyi, who wanted his country's independence as much as any of his most patriotic countrymen, and who saw in Bogyoke Aung San the means to this cherished end, categorically refused. Sir Paw Tun asked him to reconsider and accept the offer that was being made by the British 'out of goodwill'. Prince Taw Phaya Gyi, always known as a man of principle, indignantly replied, 'I would rather be a vagrant than be a king elected by the British and that's my answer, Sir Paw Tun…As a man of wisdom you may have heard of the adage "A lion even though dying of hunger does not eat grass"'' (pp. 301-2).
Nor was this the last turn of the wheel: the colonists' successors also had reason to fear the dynasty's appeal. Sudha describes a ceremony held in the 1950s by General Ne Win who was then head of a caretaker government: 'The government let it be known far and wide that the royal family would be coming, and people from all around the area poured in through the previous night to reserve a spot for a glimpse of the family. The Third Princess, Prince Taw Phaya, Prince Taw Phaya Galae, Princess Hteik Phaya Htwe (the Fourth Princess's youngest daughter), and two of Prince Taw Phaya's eldest sons attended the event. As the family approached the stage, girls and women of all ages, in a truly astounding demonstration of affection, bent forward in the traditional sheiko, and loosened and laid down their long hair so that the royal family would not have to walk on the bare ground, 'and we had to step on their hair and go.' Prince Taw Phaya rather nonchalantly adds, 'I mean there is always a sentiment for their old kings with the people.' The government's reaction was not so nonchalant. Taken aback and flustered by the obvious depth of public sentiment for the royal family, the government took no more chances. They now longer saw the familynot as allies for a common cause but as potential competitors for popular support, and stopped involving them in any further campaigns.' (p. 294)
One of the great merits of The King in Exile is that it is completely free of jargon and theorizing. It is in essence a family story, centred on five women whose lives were waylaid by history. To my mind Sudha is at her best when she writes about the Princesses – and the reason for this, I suspect, is that these sections are founded largely on interviews. When she depends mainly on archival and secondary material she sometimes falls hostage to the sources.
But these are rare lapses: for the most part the crafting of the book is so assured that I could not help wondering about Sudha's previous experience as a writer. On reaching the end of the book I sent her some questions. They are posted below, along with her answers.
Q. Where did you travel in the course of your research?
A. For interviews with descendants, I've traveled several times to Ratnagiri, Kolkata (where the Second Princess's son had settled), Yangon and Pyin Oo Lwin. Also to Mandalay, for a feel of the city and palace, and to Kalimpong for a better understanding of the Second Princess's life. My archival and library research has been done in Mumbai (The Maharashtra State Archives), New Delhi (National Archives of India), Yangon (National Archives Department of Myanmar), and London (British Library, SOAS library).
Q. How long did your research take?
A. I read The Glass Palace in 2004 and was hooked. I felt I had to know more about the family.  I first visited Ratnagiri in July 2004, and met some of the First Princess's descendants. I almost immediately afterwards visited Maharashtra Archives to determine what information it held on the family. So began my research. I researched and wrote for seven years (I have revised my manuscript a couple of times after handing it in to HarperCollins in 2010).
Q. Did you have any previous connection with Burma/Myanmar?
A. No, I had no previous connection with Burma, although descendants of the Fourth Princess tease me that there must be a karmic connection for my interest to have been sustained for so long!
Q. You seem to be adept in the use of historical sources. Were you trained as a historian?
A. No, unfortunately, I have not been trained as a historian. I studied economics at Smith College, Massachusetts.  However, it was a liberal arts education with exposure to many other subjects. Once I finished one of the last drafts of my manuscript, I requested Dr Michael Charney, Reader in South East Asian and Imperial History at SOAS, and a specialist on the Konbaung dynasty, to look at it to confirm that there were no historical inaccuracies. I am very grateful to him for having gone through it and for sending me his suggestions.
Q.  What is your present profession/occupation?
A. My primary occupation for the last seven years has been researching and writing this book. After graduation from Smith, I worked for almost a decade in the field of finance, after which I started and ran a small business, which I abandoned when I began my research.
Q. What led you to this project?
A. The Glass Palace was very honestly the starting point of my project. I felt I had stumbled upon a fascinating story just begging to be further explored.
Q. Was it difficult to find a publisher for this book?
A. It didn't take me long to find a publisher – a few months – but after signing me up, it seemed they just put the manuscript on a back burner! Although that was frustrating, it has perhaps been to my advantage, as Burma is now so much in the news.
Q.  Do you have any other projects lined up for the future?
A. This is my first book, and I would love to write another book since I have found that I really enjoy both the research and the writing process. The research was very exciting – I felt like a detective on a trail, finding clues and piecing together picture after picture! And details helped me colour each picture– every detail adding greater nuance and depth. I enjoyed the writing too, although deciding what to include and exclude was often very difficult, which is part of the reason I had so many drafts! I'm not sure what I will write about next, but human-interest stories, set in a historical context, fascinate me. I greatly admire a writer like you, who can write fiction in historical settings so detailed, accurate and convincing.
For me it is a source of the deepest gratification that The Glass Palace played a part inspiring The King in Exile. I hope it will not be another seven years before Sudha publishes her next book ( how about the story of the last king of Kandy and his life in exile in Mauritius?). Whatever the subject I will very much look forward to reading it.