Breakfast at the Sunday morning market in Chinatown is an old tradition in Kolkata (formerly Calcutta).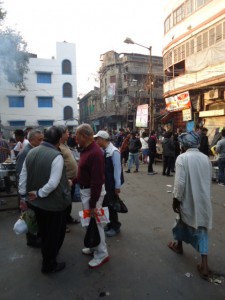 Visitors have to be up early because the market's hours are short – from about 6.30 to 8.30 a.m..
The market is in a lane in the city's crowded centre (beside Poddar Court, a recently bulit commercial complex).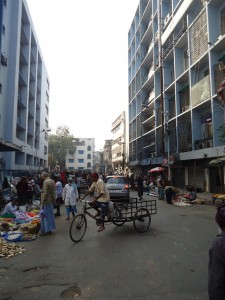 This was once the heart of a thriving, centuries-old Chinese community (some members of the cast of River of Smoke and Flood of Fire [forthcoming, May 28, 2015] are from this community).
Now only a hundred or so Chinese-Indian families remain in this neighbourhood.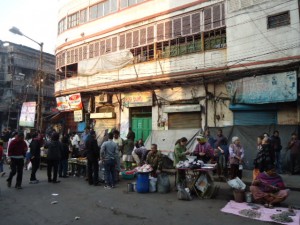 But still, every Sunday vendors gather to sell Chinese cabbage, mustard greens, dumplings, home-made noodles, shu-mai, Chinese sausages, steamed glutinous rice, meatballs and so on
In an adjoining lane,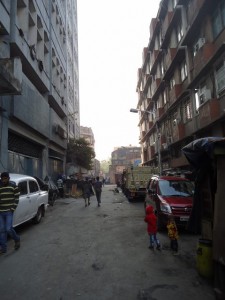 Chhatawala Gulee, named after the umbrella-makers who once had workshops there,
is the Sea Ip Church,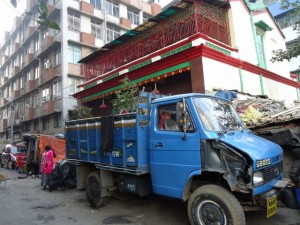 which was founded in 1905,
by migrants from four counties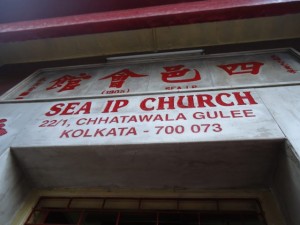 in China's Guangdong Province.
Pictures of Mahatma Gandhi and Sun Yat Sen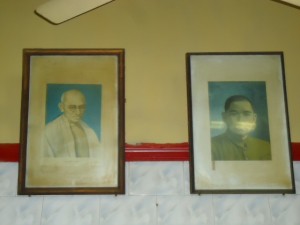 hang in the entrance hall.
We are fortunate to have with us,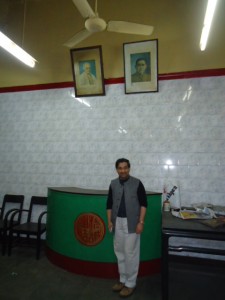 a brilliant scholar of China, Dr. Tansen Sen, a Kolkata-born historian who is an expert on Indo-Chinese connections and cultural exchanges. He is the author of Buddhism, Diplomacy, and Trade: The Realignment of Sino-Indian Relations, 600-1400 (University of Hawai'i Press, 2003) and many other books and articles.
Tansen explains that the 'churches' of Kolkata's Chinatown are traditional Buddhist-Daoist Chinese temples.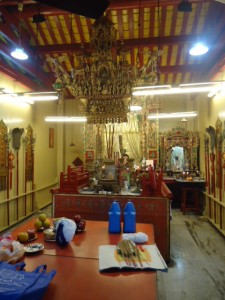 The 'church' designation derives from British colonial administrative practices.
The Sea Ip Church is consecrated primarily to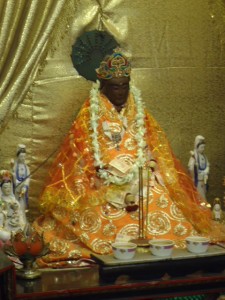 Guanyin, Goddess of Mercy.
This notice explains how to get a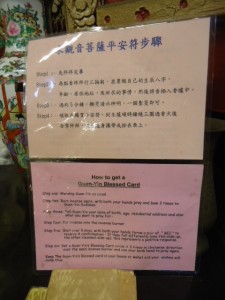 'Guan-Yin Blessed Card.'
There is also a side chapel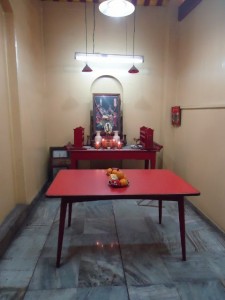 dedicated to a community deity.
Tansen explains that he is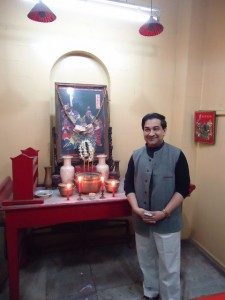 Ba Gong, a deified official, one of many such.
Here he is garlanded with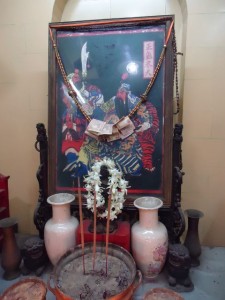 rupee notes.
In the main shrine room,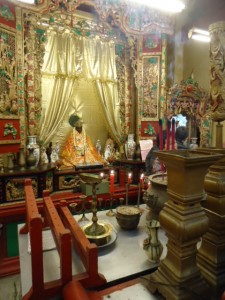 at the altar Of Guanyin,
a ceremony is under way,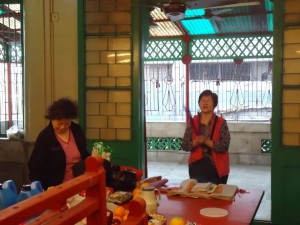 conducted by a few members of the community.
One of them tells us about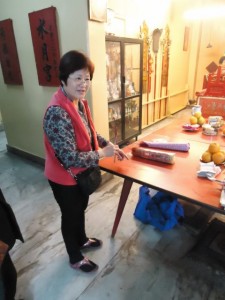 the accompaniments of the ceremony (which she describes as a puja).

She says that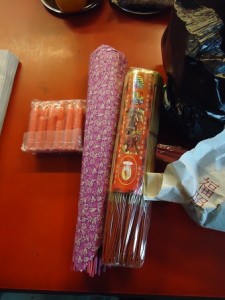 the incense-sticks
and other offerings,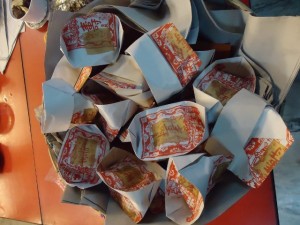 like these paper ingots, representing gold, are all locally made, by artisans who had once worked in factories owned by members of the Chinese-Indian community.
A stone's throw from the Sea Ip Church, is a building that once housed a great Calcutta institution: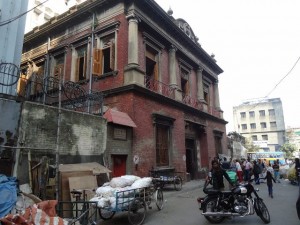 the Nanking Restaurant. It was one of my father's favourite restaurants and I have fond childhood memories of it.
The restaurant closed down years ago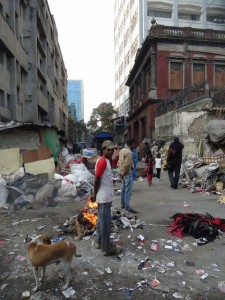 and the approaches to the building are now choked with refuse.
It is a sorry sight, but things may soon get better.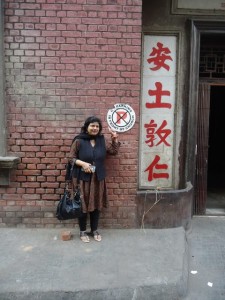 Rinkoo Bhowmick is one of the founders of the Cha Project,  an initiative which hopes to transform Chinatown.
If all goes well, this building, which is also known as the Toong On Church, will be restored to its former glory.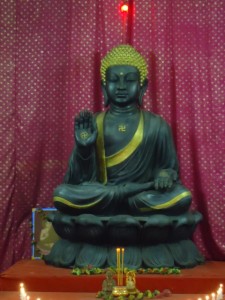 In the main hall (which once housed the Nanking Restaurant), there is an image of the Buddha.
The salon upstairs is empty now,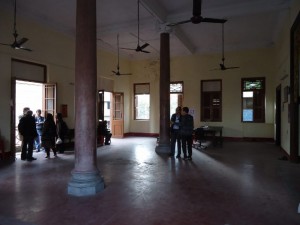 but was once filled with fine artefacts.
Lee Han Kuang, a prominent member of the community, is working to reclaim some of those artefacts and hopes one day to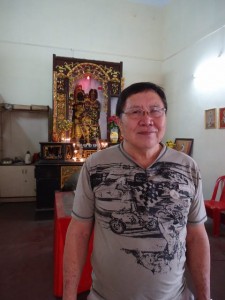 bring some of them back to the Toong On Church.
Once upon a time, crowds would gather around the building when film stars like Dilip Kumar and Meena Kumari came to the restaurant. The stars  would often step out on the balcony to wave to their fans in the lane below.
This is what the lane looks like today.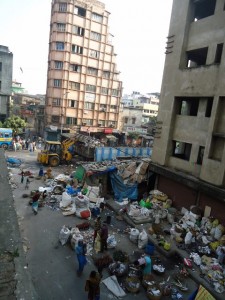 Across the main road, on Blackburn Lane,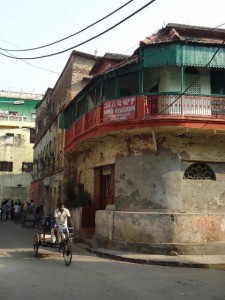 is the Hupeh Association. Tansen tells me that the favoured profession of migrants from Hupeh was dentistry. In my childhood the clinics of Chinese dentists were a common sight in Calcutta; their premises were easy to recognize because of the giant teeth that hung above their doors.
Many families of Chinese origin once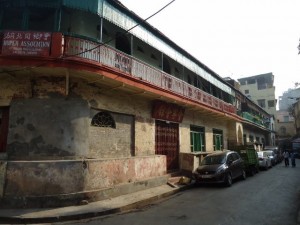 lived in this building and those around it.
A portrait of Sun Yat Sen hangs inside,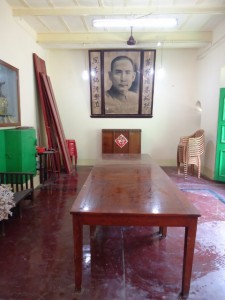 And in an adjoining room there is a shrine to Lu Ban,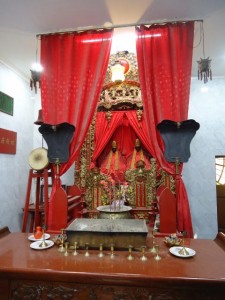 God of Carpenters.
There is also a little altar to Atchew, who is regarded as the founder of the Chinese-Indian community.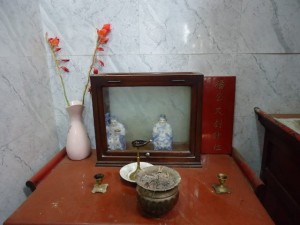 He settled in Bengal in 1785 and is said to have had an Indian wife. The town of Atchipur takes its name from him.
Down the road is the community's funeral parlour,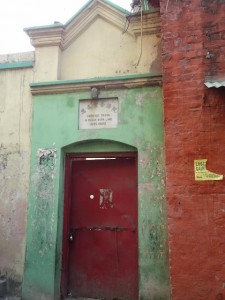 tucked in beside
a long row of houses: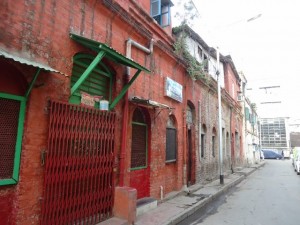 this was once the residential core of Chinatown.
Many of the houses still have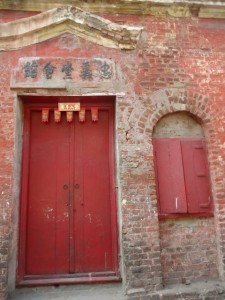 Chinese lettering on the doorways.
Making our way past a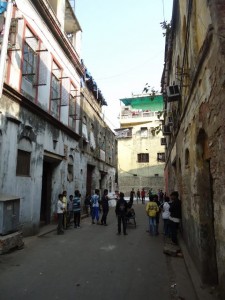 (very serious) cricket match
and the doorway of a now-defunct
Chinese bookshop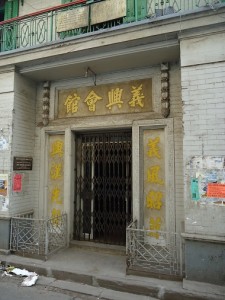 we walk past the bricked-up entrance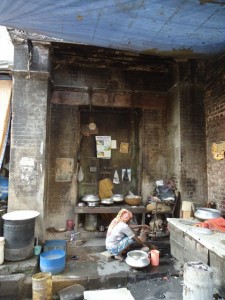 to what was once the Guang Shun club and restaurant,
and enter a lane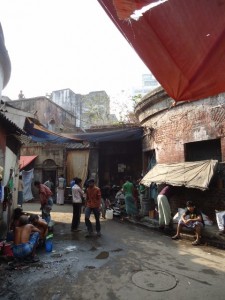 that leads to the oldest Chinese temple in Kolkata.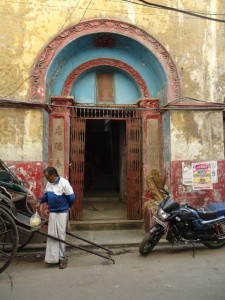 The address is 17A Tiretty Bazar.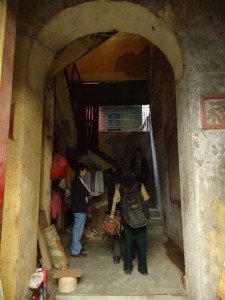 A narrow passageway, filled with debris,
bears witness to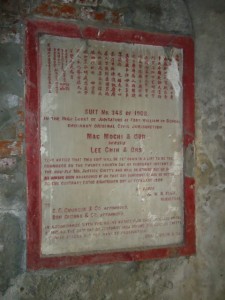 a history of contentious litigation within the community.
The main shrine room is upstairs;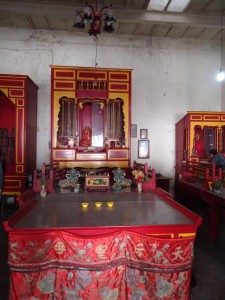 it is dedicated to Tianhou, Goddess of Sailors.
This temple is said to have been founded in the early 19th century,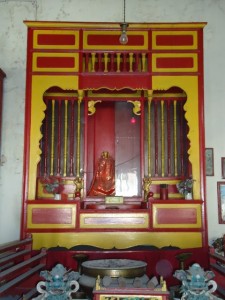 before the First Opium War (1840-42).
The temple's custodian,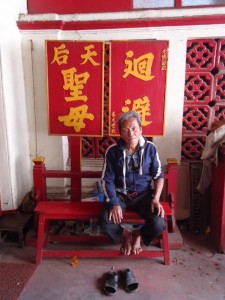 Zeng Jian Chuan,
shows us around the premises.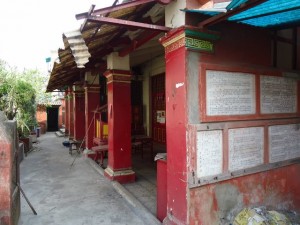 The terrace is lined with commemorative inscriptions.
In a nearby building a man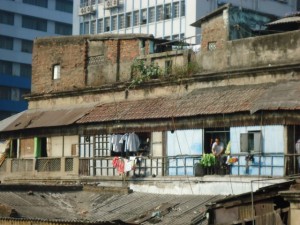 hangs some leaves, freshly bought at the market, on a window-sill: they will soon be turned into Chinese-style pickled mustard greens.
Returning to the lane
we walk deeper into Tiretty Bazar,
to what was once a ceremonial gateway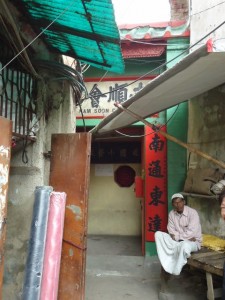 Inside lies the tranquil courtyard of the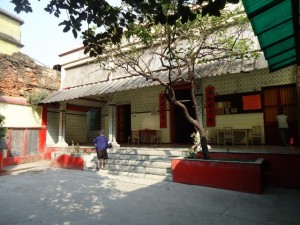 Nanshuan Native Place Association.
The principal deity in the shrine room is Guandi, the God of War.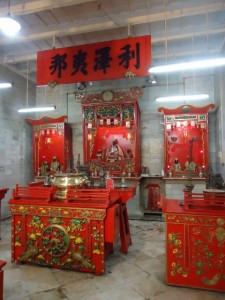 The inscription hanging above the altar says: 'Prosper in Foreign Lands' (the character yi, which was cited by the British as a major grievance during the First Opium War, is third from right).
Amidst the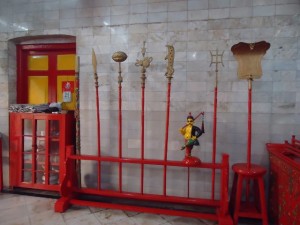 decorative weaponry,
is a mysterious statuette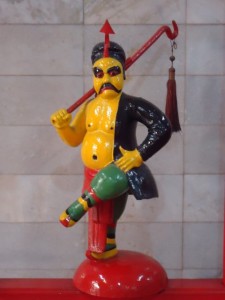 the provenance of which not even Tansen can explain.
Next to the shrine room, is the hall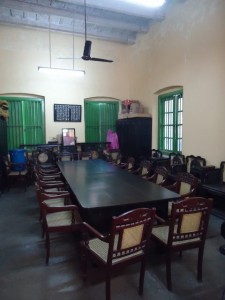 where the members of the association would gather for meetings.
In a cabinet on a wall,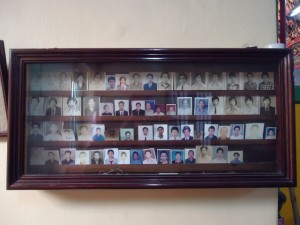 there is a poignant display of photographs of members who have left for other shores.
At the far end of the complex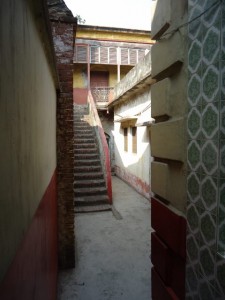 are a few schoolrooms.
The headmistress,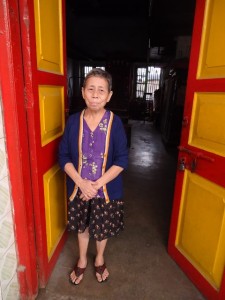 Lily Ho, tells us that her efforts to teach her pupils Chinese have been unavailing: 'They find the language too difficult.'
Another short walk down the lane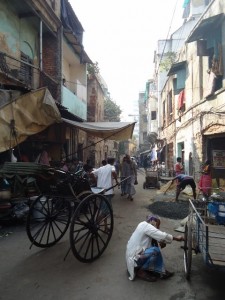 brings us to the last stop on our itinerary.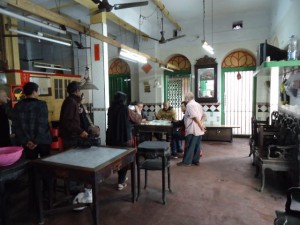 The Yi Xing temple, which is another shrine-cum-'native place association.'
A game of mah-jong is under way when we enter.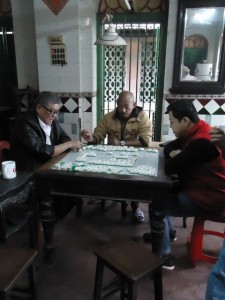 In one corner of the room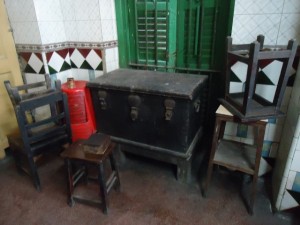 is an old chest
filled with papers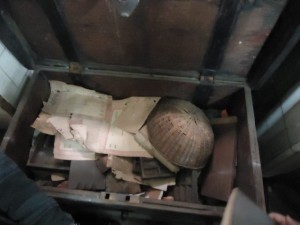 like this one,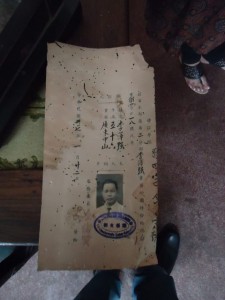 a funerary inscription.
Tansen is horrified to learn that the papers may soon be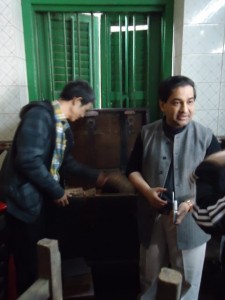 disposed of as trash. He offers to have them digitized.
which draws a big smile from one of our guides,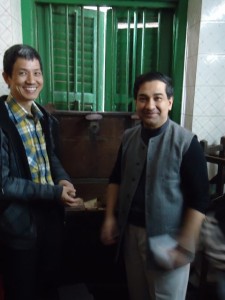 Dominic Shien Woun Lee, an activist who hopes to preserve and restore the  community's heritage.
For a long time preservation and restoration were not a high priority for Kolkata's Chinese-Indians. Following on the India-China war of 1962 the community faced many vicissitudes, including mass internment, expropriation of property, dwindling numbers, and so on. If this was a dark chapter in the history of independent India, it was even more so in that of Kolkata, where Chinese migrants have been a part of the urban fabric for many generations.
The city has paid a steep price for the treatment that was meted out to its Chinese-Indian residents: had the community been allowed to thrive it would have brought in, decades ago, investments of the kind that India's current leaders are now earnestly soliciting from many countries, including China. Diasporic Chinese communities have generated great wealth for Bangkok, Saigon, Jakarta and many other cities across South East Asia; they are now doing so also in Vancouver, Sydney and elsewhere. Unfortunately, for Kolkata, this was yet another of a long string of missed opportunities and squandered advantages.
But fortunately for the city, it is still in possession of the legacy that was left to it by its once flourishing Chinese population. The remaining buildings of Chinatown are a unique endowment, the like of which exists in no other Indian city; if properly restored these buildings could become a huge draw for visitors and serve to revitalize a decaying neighbourhood. Only time will tell whether this legacy will be squandered or cherished.