[The pictures and text posted here were sent to me by Vedica Kant who studied in Delhi and Oxford. She is now living in Istanbul.]  
Given how little thought India's contribution to the World Wars gets in our collective historical memory, it is almost strange to think that in the First World War India made the largest contribution to the war effort out of all of Britain's colonies and dominions. Close to 1,700,000 Indians – combatants and non-combatants – participated in WWI.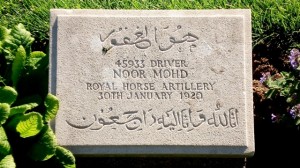 My own area of interest is India's role in the Mesopotamian theatre. This was India's main theatre of war and some 588,717 Indians were involved in the war effort there. When General Charles Townshend's Sixth Division surrendered at Kut-el-Amara on 29th April 1916, a large number of Indians (one estimate put the number at around 10,000) were amongst those who were captured.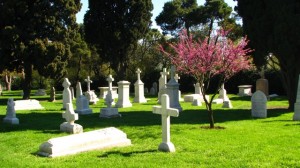 For some the journey hereon involved a hellish march across the desert to Ras al-'Ayn to work on the Constantinople – Baghdad railway. Others were sent across the Taurus Mountains to the POW camps at Afyon.
There is very little of the Mesopotamian Indian war experience that has survived or indeed been written about – David Omissi's Indian Voices of the Great War: Soldier's Letters, 1914 – 1918 and Santanu Das' essay 'Indians at home, Mesopotamia and France, 1914 – 1918' in his edited volume Race, Empire and First World War Writing are two notable exceptions where the letters and memoirs of Indian soldiers who served in Mesopotamia are explored and discussed.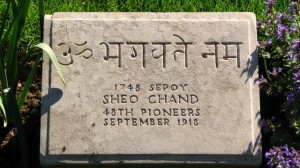 As Santanu Das has noted, the Indian war experience was not monolithic and just as Europeans, there were different wars and war experiences for Indians too. Trying to unearth soldiers' experiences is more than an attempt at recovering wartime travelogues – "…the country here is absolutely uninhabited and desolate."; "It rains very heavily and the entire surface of the land becomes a quagmire in which the slush is knee deep. When I used to march in this slush, I used to remember God!"  It is also an important means to understand the experiences of these ordinary soldiers. What did they make of the place they were fighting in? Their enemy? Their own place in an imperial army? The loss of home? And of course, what did they make of religion at a time of war?  Mesopotamia was a front that tested the loyalty of a number of Muslim Indian soldiers, who were confronted with the choice of fighting the troops of the Caliph or remaining loyal to the King. The 15th Lancers mutinied in Basrah in 1916, refusing to march against the Turks.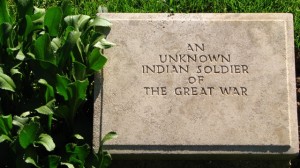 Other Muslim soldiers remained steadfastly loyal. At one point the Ottoman government decided to extend special treatment to a group of Muslim Indian POWs, taking them on a special tour of the Topkapi Palace and granting them a special audience with the Sultan. The British authorities were furious at this attempt to "get at" the Muslim soldiers. What the Muslim soldiers themselves made of it, we don't know.
The fact that most of the Indian soldiers who fought in WWI came from economically less well-off backgrounds and were generally uneducated means that we have very little in terms of their textual memory – as memoirs, letters etc. – that still survives today, though there are fragments of their stories in the British archives and in the memoirs of British soldiers.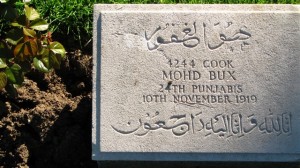 The language reforms that the Turkish Republic embarked on in 1928 has meant that any material in the Ottoman archives requires the knowledge of Ottoman Turkish to be accessible to the modern scholar (this always makes me sigh – as if learning Turkish was not torture enough!) Still apart from these textual sources, the memories of these soldiers still often survive in subtle, stubborn physical forms. In Istanbul, memorial stones can be found for a large number (around 170) of Indian POWs at the Haydarpasha English Cemetery.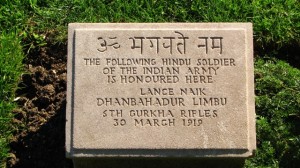 The cemetery itself was first built for the British Crimean war dead but also became home to many of Turkey's British community and WWI POWs from the British Empire. The memorial stones remind us of the names of some of those Indians – sepoys, lance naiks, drivers, cooks – who were part of the British Indian army and who died in this country.
– Vedica Kant,
Istanbul, May 2012