Book tours are punctuated by all kinds of unforeseen encounters: most are pleasant, some are disconcerting, and a few are rewarding beyond all expectation. Thus it happened for example that the Asia House event for 'River of Smoke', on June 8, in London, led to a meeting with Aung San Suu Kyi's brother- and sister-in-law (cf. my June 9 post).
At the same event I also met, very briefly, Dr. Krishnan Gurumurthy, who told me that he had read 'The Glass Palace' and that he was himself a survivor of the exodus from Burma that figures in the book. I have often urged people to record the memories of those who lived through that epic trek over the mountains of the India-Burma border. The last survivors are now in their seventies and eighties and their memories constitute an invaluable living archive. Very few published accounts of the march exist and most were written by Europeans; Asian accounts are exceedingly rare (this is one of the reasons why the historian Hugh Tinker described it as 'The Forgotten Long March'[1]).
First a few elements of the background: In 1941, when the 2nd World War spread to Asia, Rangoon was predominantly an 'Indian' city in that the majority of its population consisted of people of subcontinental origin or descent. According to the 1931 census, there were slightly more than a million Indians in Burma at the time; of these some sixty per cent (617,521) were born in India. The consequences of Indian migration into Burma were too complex to go into here. Suffice it to say that the through the 1920s and 30s, there were some powerful currents of hostility to the Indian presence in Burma. In 1930 bloody anti-Indian riots broke out in Rangoon and many thousands were killed. As a result of these developments, there was an increasing nervousness within the Indian population in Burma.
Japan entered the 2nd World War with simultaneous attacks on Pearl Harbour and northern Malaya. On December 23 came the first Japanese air attacks on Rangoon.
This attack created absolute panic in the city. It is important to remember perhaps that generally speaking, very few civilians had expected the war to spread to Asia. The survivors I spoke to were almost unanimous on this. The attitude is hard to account for because in military circles, Indian as well as British, it was well-known that the Japanese were preparing for war. Similarly, the British municipal authorities had made preparations for air-raids: trenches had been dug, an Air Raid Precautions authority was set up in Rangoon and other cities, on the model of similar bodies in London. Yet, psychologically, the civilian population of the British territories in Asia appear to have been completely unprepared for the coming war (Dr. Gurumurthy's father was by no means unusual in this).
The first Japanese air raid on Rangoon, was on December 23, 1941. The air raid of Dec 23 was followed by another on Dec 25. The air raids created chaos in the city. There was a general breakdown of law and order and the Indians, already wary after the riots of the past decade, began to panic.The perception was that the British were about to withdraw from Burma, and that in their absence, Burmese mobs would have free reign to terrorise the Indian population. Suddenly, the Indians began to move northwards. But without the Indians the city simply could not function: they made up almost the entire working class of Rangoon. The dockworkers were the first to abandon their jobs. This meant that essential supplies could not be unloaded from the ships in the Rangoon docks. Many of these vessels became sitting targets for Japanese bombers.
In January it became clear that the Japanese were advancing rapidly and that the British forces would not be able to hold them. Leslie Glass, a British civil servant, was present in the city; this is how he describes the atmosphere: "Every Japanese air raid increased the steady stream northwards of the city population, and more and more institutions ground to a standstill. One afternoon, I joined in a bizarre and melancholy foray to shoot all dangerous animals in the zoo, as all their keepers had decamped. Tigers, panthers and poisonous snakes were killed and the deer released in the park, except for one which we shot for fresh meat. When we had gutted the poor beast, we threw its entrails into the lake and great fish thrashed and swirled in the course of their unusual meal.'
At this point the British began preparations for evacuating their government: the civilians were left largely to fend for themselves. The Indians began to stream out of Rangoon and central Burma, and soon vast crowds clogged the principal roads. As to why so many Indians took the decision to leave Burma, at such great personal cost – this remains something of a mystery to this day. Some of them certainly saw themselves not as a group separate from the British but also as colonists, extensions of their master's house. Some evidently believed that they would be a hostage population in the hands of the Japanese; others thought that the Burmese would turn upon them once the protective hand of the British had been removed. But these apprehensions were unfounded: in fact well over half the Indian population chose to remain in Burma. They were not singled out after the British withdrawal and were spared the suffering of the exodus.
Whatever the reasons, a great number of Indians decided that the difficulties of the road were preferable to the uncertainties of remaining where they were and the march quickly developed an unstoppable momentum. In the initial stages, the exodus moved in two directions. One took the easterly route, over the Arakan Hills into Chittagong. This was a relatively short route, though also very dangerous. It is estimated that one to two hundred thousand Indians crossed to India over this route.[2]
The other route was the northerly route, essentially following the course of the Irrawaddy and then the Chindwin river. This route was several hundred miles long (depending on the starting point). The final crossover into India lay through uncharted terrain – over the mountains that separate Manipur from Burma.
All the while, a certain number of planes and boats stayed in operation, but they were used mainly for the evacuation of 'European' personnel. There are innumerable stories of how these fleeing officials sometimes used their transportation privileges to carry away pianos and dinner sets, while their subordinates had to make their way on foot, abandoning everything.
In the early phases of the air evacuation, according to Hugh Tinker, 'Europeans and Eurasians were in the overwhelming majority'. Then, 'after protest by Indian leaders, the proportions were reviewed.' But on May 9 the air route was shut down all together and now only the mountain route remained. This was the route taken by Dr. Gurumurthy's family.
On meeting Dr. Gurumurthy I immediately urged him to record his memories on paper. A few days ago he sent me a short memoir of the march; I am posting it here with his permission (in three parts: the accompanying pictures are mine and were taken in 1996).
Here is Dr. Gurumurthy's account of the march.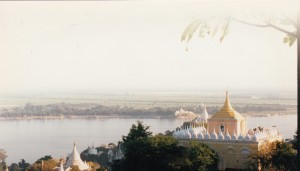 My wife and I met you at the Asia House and you mentioned that you might be interested to hear from me about my experience trekking as a war evacuee from  Burma during   Feb/April 1942.
Before that  a brief preamble.
My grandfather migrated to Burma to make a living and my father was born in Rangoon in 1902.
My father grew up in Burma and in due course married my mother who was from a small village near Madras ( Chennai ).In time they had 7 children, 6 boys and a girl.
I am third in the pecking order and was born in 1933. I was 9 in 1942.
My father was an employee in the Burma Railways and we lived in a place  called Toungoo, which , if I recall right was a railway town. It seemed to be always sunlit and with my brothers always playtime. So at least I imagine.
My father, I felt was a practical and responsible person.  I therefore cannot fathom his apparent failure to apprehend the imminent menace of  a Japanese conquest of Burma, and leave for the safety of india, especially with a large brood.
Toungoo is a medium-sized town about 200 miles north of Rangoon. It is the District Headquarters of Toungoo Dist. I do not know when my father moved to Toungoo but life was largely easy and  delightful.
All this was to vanish.
The Japanese were advancing  towards Burma after their conquest of malaysia. The full impact could be felt only in the year 1942.  There was panic all round in Toungoo. Many of them were making attempts to flee. My father at last decided in January 1942 to send us to India and he wanted to stay behind.
Our next step would be to catch a steamer at Rangoon for our journey to Madras.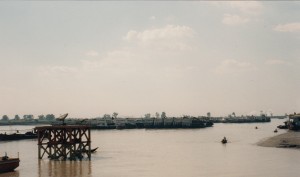 We left for Rangoon sometime in the  end of January 1942. With great difficulty, my father managed to get steamer tickets to Madras. On the appointed date, we went to the Rangoon port to board the steamer and at the last moment fate again played its tricks. Just as everything was seemingly going well, we were denied entry into the steamer. By that time, the Japanese had advanced to the outskirts of Rangoon City, and the then British government thought that only the lives of the British, and Anglo-Indians were worth saving and allowed only them to board the steamer. The rest of us were thrown out to fend for themselves.[1]
Immediately thereafter the Government declared an emergency and handed over the city to the army. They directed all the inhabitants to leave the city within 48 hours. [2]All hell broke loose. All exit points were closed.
My father decided to go back to Toungoo. But there were no trains or buses or any other transport available.  Since my father was in the Burma railways, he sought the help of the local railway station master of a suburban station and managed to board us into a coal compartment of a goods train. The whole night we travelled without water or sleep, perched precariously atop the coal heaps to reach Toungoo.
We did reach Toungoo in the morning tired and hungry. But our erstwhile house was a sight to see. Instead of the house we left behind we could see only a big crater and the house destroyed. The locality must have been bombed in our absence. But, had we stayed behind in Toungoo the entire family might  have perished.
The only alternative was to go to India through the land route.
The land  bridges were bombed, travel by train to North Burma was out of question. My father's  contacts came to our rescue. One of them  lent his car and driver and asked us to go to a place called Maymyo in the north  and from there proceed on our onward journey.
On reaching Maymyo  we were lodged in a Dharamsala on  the banks of the river Chin Win. We stayed there for a few days. Like us, there were others who were trying to go to India. Maymyo was the starting point for our journey. To reach the 2nd stage of our journey, viz., the Naga Mountains, we had to travel another 100 miles partly by boat/ferry and partly on foot and bullock cart.
We  managed to hire a large boat called "Anda boat" (egg shaped). The boatman  agreed to ferry us to a specified spot delineated in a map given to us, from where we could continue our trek, at a fare of Rs 20 per person. To facilitate our journey, pamphlets and maps were distributed showing the places of halt, evacuee camps, availability of free rations etc. No monetary aid was given. The maps were however useful. This particular travel by boat was enjoyable in parts. The boat wended its way smoothly through the river. The weather, I remember,  was clear and fine. The boat used to ply during day time and in the evening anchor at some place near a village. Near the river bank, several fruit and vegetable gardens were laid out. Our co-passengers and ourselves simply helped ourselves to this produce and with wood gathered from the neighbourhood, we would cook our meals. We had a small stock of dhal, rice and salt available with us. These events at the time  affected me very little. God knows what kind of mental agony my parents must have been undergoing, their main concern being our safety. Thus, we travelled for 7 days and 7 nights and reached another stop  (I do not remember the name) from where we were to travel by foot to reach  a small town called Tamu, at the foothills of the Naga Mountains.
This stage of the journey was nothing but real agony. This stage covered about 50 miles by foot through dense forests. My father engaged a bullock cart for my grandmother, mother,  my  three younger brothers and my sister.
I and my older brothers and father  had to walk. We were told that this particular route was hazardous both from the danger of wild animals. There were warning signboards in some places that one had to walk non-stop to escape death by inhaling poisonous air. One may wonder as to how we could go through these forests safely. This was possible because about 5000 evacuees were moving at a time together for mutual safety. In our group there were many Sikhs carrying weapons. Those who had no weapons made noise through drums to scare the animals. Once, we encountered a large python. Thanks to the cover provided by these able bodied youth, we were able to cover the route without fear and danger, from dacoits and wild animals. After an arduous travel for seven days, sometimes without food or sleep, we reached  Tamu.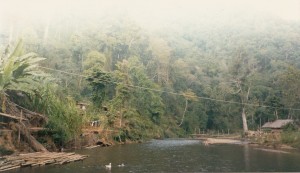 Tamu, now,  is a very important transit point at the foothills of the Naga mountains. Lot of commercial activity, both legal and illegal (Peddling of drugs and contraband goods) takes place in Tamu.  But in 1942  it was a small place perhaps not exposed to present day nefarious activities. But it was an important place from where one has to cross the Naga Mountains to reach India. At that time, in 1942, it was over-crowded with thousands of desperate Indians, classified as Burma evacuees, all eager to reach India. One has to obtain a permit from the Camp In-charge to start our trek over the mountains. My father obtained this permit and we began the trek over the mountains.[1]
When one is struck between a rock and a hard place and is faced with no alternative one gets enormous strength to fight to survive. The very thought of climbing the mountains bare-foot is mind boggling. My father engaged three Manipuri coolies to carry the three young siblings. We discarded the remaining small items at this place and started trekking literally with just our clothes on. The first day was the most arduous  with unbearable strain as the mountain was steep with no down hills throughout. My mother and grand-mother were the worst sufferers. Many unfortunate evacuees perished on the way side. There was no one who cared to remove the corpses of the dead. One's mental attitude at that point of time was such that even if your own child or near or dear ones perished you would just walk on to save yourself. Quite a few did just that. No one even bothered to remove the small gold ornaments still on the body. I can vividly remember holding my father's hand and asking how far still  to go . He used to point at some flickering light and say that was it. I, of course believed him. My feet were heavy out of tiredness and I could hardly lift them; often I hit the  stones in the path and bled from the nail beds.
We travelled throughout the day and rested at night at some convenient place in the mountains. Over 5000 evacuees were moving together. Thanks to our able bodied Sikh and North Indian friends, we were able to sleep peacefully at night. They kept guard over us throughout our journey through the mountains. It was an ordeal. Perhaps, the very noise and the human crowd appeared to have scared the animals. We sustained ourselves from the small quantities of rations, consisting of rice, dhal and salt provided by the transit camp authorities. After seven days of trekking, half-dead physically, one fine morning we descended and set  foot on Imphal. I  still can recall that moment. My mother and grand-mother were in a state of acute mental and physical collapse due to exhaustion.
My parents were overjoyed to set foot on Indian soil. Only those who underwent the trauma of fleeing from their homes could fathom the ordeal we went through to arrive in India alive.  Many perished and hardly any family escaped without a loss. The transit evacuee camps at Imphal were big bamboo thatched sheds and were being used to house thousands of evacuees. This was the first transit camp provided to us  since we fled Toungoo. Free food and medical facilities were provided. Notwithstanding the medical attention, many evacuees were dying of cholera due to contaminated water, inadequate food and exhaustion. The magnitude of the problem was such that nothing better could be done. During a week's stay at Imphal, we could somewhat recoup from our trauma, but the condition of our grand-mother began to deteriorate due to old age, fatigue and weakness.
Our reception in India was in sharp contrast to our journey through Burma. Spontaneous relief and assistance was forthcoming from various non-Government organisations like the  Indian National Congress, Marwari Relief Society etc. to make our life as comfortable as possible. There was an air of sympathy and fellow-feeling all-round. They arranged free food, accommodation, travel and medical care. In short, our Indian people regardless of caste, community or language welcomed us with open arms. From Imphal, we were taken to Dimapur (then in North-East Frontier Agency) by bus. The travel took the whole day through the Naga Mountains and was very tiring. My mother was vomiting throughout the journey.
After being fed and housed for two days, we were put on the train bound for Sealdah (Calcutta). On reaching Sealdah, we were taken to a guest house managed by volunteers.  We really had a tough time at this guest house as it was over-crowded with a large number of evacuees. Within two days, we managed to get out of the guest house and could catch a train bound for Madras at Howrah station. However, in the midst of adverse conditions, we found some time and energy to go round Calcutta and visited Victoria Memorial and New Market.
The train to Madras was unusually a long one with a large number of compartments. It took about ten days for us to reach Madras. The train wended its way slowly, partly because of the over-load and partly because it stopped frequently in all major stations. At every major station, people from the villages flocked to the train and showered us with delicacies, fruits and beverages. The affection shown to us by Bengalees, Oriyas and Andhras en-route was touching. At that time in the year 1942, the fervour of patriotism and freedom from British Rule was such, everyone was vying with each other to do their bit for their fellowmen. Slowly, the evacuees were trying to recover from the trauma of fear and anxiety. Sometime during the first week of April, 1942, we reached Madras Central Station. A big feast was arranged by the local philanthropic organisations on the platform of the Station itself for about 2000 people. All the evacuees thanked the Almighty for getting us safely against very heavy odds. But, in the midst of our happiness, tragedy struck the family. The condition of our grandmother worsened and she died at the General Hospital opposite the Central Station. Perhaps, it was the price we had to pay for an otherwise safe but hazardous journey.
We started sometime in February 1942 on our trek to India and reached Madras in the 1st week of April, 1942 – a period of two months.
All this mostly from memory. I could not swear to its exact details. Obviously,during the years there was much reminiscing in the family which kept the memory alive and  partly coloured the memory.
I have stuck to the old names for the places. To me Madras is still Madras; for Yangon I would need a map!
I hope this is of some interest.
Krishnan Gurumurthy
---
[1] These permits, and the routes they provided access to, were also racially coded. The 'White' routes were generally shorter and easier and were largely reserved for retreating soldiers and European and Eurasian civilians; the 'Black' routes were longer and much more arduous – Asians were generally allowed to use only these routes. Another account in my possession, written by an Indian, provides a harrowing account of the writer's attempts to acquire 'White route' permits for his wife and young children.
---
[1] The racial hierarchies of the British Empire seem to have become all the more stringent in this moment of crisis. Instances of exclusion and discrimination, such as this, are often foregrounded in Indian accounts of the march. For many Asians the closing of the escape routes would mean death.
[2] Here I think Dr. Gurumurthy may be misremembering, which would hardly be surprising since he was only 9 at the time. Contemporary accounts suggest that the British administration did everything it could to discourage the Indian migration. They sealed off some of the exit roads from the city and they sent prominent Indians out to cajole the migrants to return, promising them safety in govt. organized camps. It was at this point that administrative action turned race and class into tickets for survival. For example, orders were issued that no adult Indian would be allowed to leave Rangoon by ship as a deck passenger. This meant that the working class was trapped in Rangoon, for only the wealthiest Indians could afford to travel other than on deck. But soon, these routes were cut off too because the major steampship company, British India Steam Navigation Co. confined its allocations mainly to 'Europeans'.
---
[1] Hugh Tinker, A Forgotten Long March: The Indian Exodus from Burma,1941, Journal of South East Asian Studies, 7/1, March 1975.