The late poet and essayist Nabaneeta Dev Sen was a great writer and a dear friend. She was a woman of extraordinary warmth, generous to a fault and wonderfully witty. She was also a fine cook and gourmet. I treasure my memories of evenings at her house in Kolkata: they were filled not just with great food but also laughter, scintillating conversation and music. Her death on November 7, 2019, was an incalculable loss, for those who knew her, and for Bengali literature.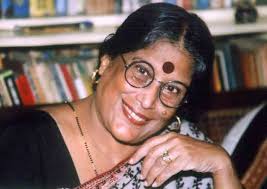 Even though Nabaneetadi was a towering figure in Bengali letters, very little of her work is available in English. This is all the more reason to be grateful to her daughter Nandana Dev Sen, who is a hugely talented writer in her own right, for translating a selection of her poems into English. The collection, which is to be published in April 2021 by Archipelago Books is titled: 'Acrobat: Poems by Nabaneeta Dev Sen'.
These translations of Nabaneeta Dev Sen's poems capture her quirky yet profound voice so beautifully that I felt I could hear her reading them aloud. These are the poems of an adventurous and indefatigable traveler, observing the world with deep understanding and sympathy, through the prism of a sensibility that is securely rooted in the culture of Bengal.