I've only met Rupert Arrowsmith once. I was doing a reading at Wolfson College, Oxford, and we talked briefly afterwards. He handed me an article of his: it was on the sculptor Jacob Epstein and the Asian influences on his work. It was a revelation and I wrote to tell him so.
Earlier this year, Rupert sent me his recently-published book Modernism and the Museum: Asian, African and Pacific Art and the London Avant-Garde (Oxford University Press, Oxford, 2011). I wrote a blog post about it (Modernism and the Museum, 21/7/11) in which I said:  'Arrowsmith is that rare thing, an art historian who is equally well informed about the traditions of 'West' and 'East', 'modern' and 'pre-modern'. He holds a Doctorate in English Literature from Oxford and has also spent a great deal of time in Asia; his web page informs us that he has lived for three years in Burma, where he was also ordained as a Buddhist monk.'
The post happened to come to the attention of Vivek Menezes (see my post of 12/7/11) who has long been an advocate of the unjustly neglected Goan artist, Angelo da Fonseca. It so happened that Vivek was organizing a conference and he decided to invite Rupert.
Rupert traveled to Goa a couple of weeks ago and I am told that his presentation caused a great stir at the conference. I have since received several very interesting letters from Rupert (even though they came by email, they really are letters, not messages). I am posting excerpts from our correspondence below (with Rupert's permission of course).
Sept 24
Dear Amitav,
I have been blown away by my two days with the da Fonsecas – there are some world-class masterpieces there (no exaggeration), and their references to various world cultures combined with a measure of newly fashionable-again academic technique makes this exactly the right time for them.  Frankly I'm amazed that so little work has been done on them.
Not to mention that some of them are just exquisitely beautiful.
I have always been a sucker for Fra Angelico, and find da Fonseca to play on a similar type of delicate beauty.
There is definitely a book in it, and Ivy da Fonseca has convinced me to go up to Pune with her on the bus on Monday night to see some more paintings and to have a look a the Ashram where Angelo spent a lot of his time.  If they will let me change my flight, I can also go up to Mumbai from there and look at the Fonsecas in the Heras Institute.  That will also give me a chance to drop in on Tasneem at the Bombay City Museum and see her forthcoming hoard of JJ School stuff.
The prospect of researching a book on Bombay-Goa Modernism in different parts of India is far too exciting to refuse. I really think that Vivek might be capable of bringing about a kind of renaissance along the Panjim-Aldona cultural axis.
Very best,
Rupert
Sept 24
Dear rupert
Our emails just crossed. It is wonderful to know of your enthusiasm for the da Fonsecas – it is amazing really that they are so little known. I am delighted that you are thinking of writing about them and will look forward to hearing more after your trip to Pune and Mumbai.
You are right about vivek – his energy and ambition may well be transformative for the goa arts scene. I'm so glad that this particular initiative has worked out so well!
all best
Amitav
September 30
Dear Amitav,
[28th Sept] I took a sleeper bus the other night to Pune with Ivy da Fonseca – it was quite an adventure; the regular bus broke down and they replaced it with an old Leyland one from the 1970's with red velvet curtains and everything.  Still, we got there in the end.  I have seen some more of the paintings (frescoes, mainly) and find them impressive – Fonseca has quite a Japanese hand for calligraphic brushstrokes that he may have learned at Shantiniketan.
[1st Oct] So much to talk about; very very many things of interest in Pune, a fascinating place, though without many places to get online, as I mentioned in my arm-wrestling message.  I went out to the mountains and saw an eerie derelict church in an army base that had served as a POW camp for Germans in WW2, then stood under a Pipal tree and heard the wind strumming the aerial roots like the wires of a Hindu-Buddhist zither.  It has been great getting to know Mrs Fonseca, and I feel humbled as well as enlightened by her company.  We were this evening drinking some Feni that she got from some German friars in Goa decades ago – I think its vintage quality would even have impressed Mr Cecil Pinto – the world authority on such liquor.
The 'Apocalypse' – Angelo's last painting, which occupies Ivy's living room – is really a masterpiece and has been seen by only a tiny handful of people.  It is scarcely believable that his work has gone unnoticed for so long.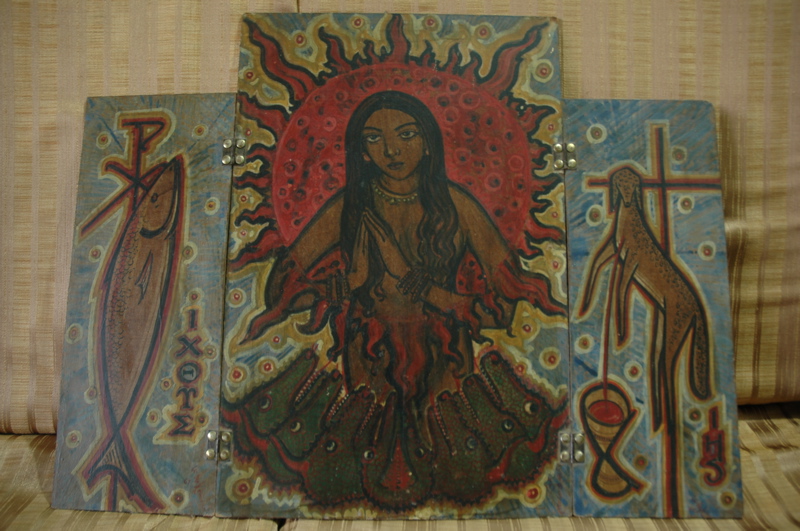 Tomorrow I'm for Bombay, and hoping to be able to navigate my way through the colossal suburbs and find my hotel, which on Google Maps (that often misleading periplum) looks close to the Heras Institute where the rest of the Fonsecas are apparently located.  This has turned into a bit of a pilgrimage, and I am greatly enjoying the opportunity of some wandering with a legitimate objective.  I will let you know what happens in that city of 20 million souls.
Very best,
Rupert
Oct 2
Dear Amitav,
I took a bus to Bombay yesterday after seeing the ashram, now derelict, where Angleo spent a lot of his time.  Some old photographs of it led to that jarring sensation where the past disconnects with the future – but then classical black and white always has the effect of making everything seem simple and inevitable, whereas the colours of the present are all too susceptible to bleeding and smudging.
I always like the sensation of entering a very large metropolitan space from the countryside; the landscape slowly getting more complicated and regularised, and then finally, as you enter the heart of the metropolis, becoming layered.  I find Bombay to be the quintessential city of layers – social strata, historical strata, and also actual, physical layers of humanity lying on the pavements, populating the vehicles, or sitting above it all on high balconies.  I always like to walk cities, and find that its best done alone and without a map.
Started at 8.30 this morning and went from my hotel room (in a disreputable chowk) down through the markets around Kalbadevi Road and down to where a number of cricket matches were happening with the Victoria Terminus in the background.  The rounded off towers and the cricket reminded me a bit of Christ Church meadow, except the teams had more interesting names – I particularly noted the 'Young Zoroastrians Cricket Club'.  Always found Zoroastrianism interesting – so much of it feeds into later montheistic cults such as Christianity and Islam that a lot can be learned about those belief systems from it.
From there I found my way along past what seemed to be a Naval base, and then to the area near the Gate of India.  I knew that I was getting close to a tourist area because there were suddenly beggar children and touts – I had not seen either that day until this point.  Gate of India is a curious anomaly.  You are invited to see it as an entrance to, or perhaps as an exit from the subcontinent; but in fact neither works because it has been bypassed.  Flows of people, information and resources flow intangibly in all directions and in all ways while it just sits there, a white elephant, yet one whose picture is snapped thousands of times a day by people of various nationalities.
After that I followed the coast around, passing through a kind of fishing village cum clothes washing village, and onto the long promenade leading towards the place that was named for me by a flower-seller as 'Chapatti Beach".  It was three by that time, and, unwilling to stop walking, I had taken too much sun and not enough water, so I cut things short by crossing the freeway next to Marine Lines station, which is close to my hotel, but more importantly close to an excellent little pure veg eaterie I randomly entered on my first night called Geeta Bhavan.  I have a weird habit of always wanting to return to the same restaurant if I am walking a city alone (have done it in many places in the world.  I had dinner there last night, and breakfast this morning, and I had a feeling that I would be 'homing' back to it again for a late lunch.  I wonder if this is something instinctive, Paleolithic man finding a reliable watering hole.
I am attaching a detail image from da Fonseca's 'Apocalypse'.  As far as I can make out, it was his last painting, done not long before he died, a victim of the plague of Cerebral Meningitis that swept through Pune in the early 70's.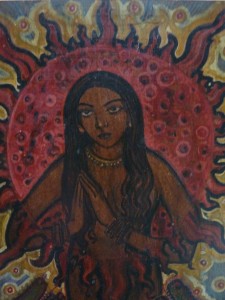 I will probably stay in Bombay until Wednesday, when I am hoping to extricate myself back to Panjim via night bus and stay for a few days before I have to fly back to London.  What started as a conference visit has turned into a hell of a ride.
My very best wishes,
Rupert
Oct 6
Dear Rupert
Sorry I've been slow to get back to you. Have been rather unwell these last few days.
What an interesting letter! I half thought of asking if I could post it on my blog, but I hate to be a nuisance and it would be terrible if people stopped writing to me for fear of being asked …
You are right about Zoroastrianism – it gave the Abrahamic religions many concepts and ideas. But the really amazing thing about it is that it also has much in common with the Dharma religions – especially Vedic Hinduism. It is hard to imagine that there might be a bridge between these very different traditions, but I think Zorastrianism is exactly that.
Hope you are back in Goa now, being looked after. More later when I am better.
all best
Amitav
Dear Amitav,
I'm sorry to hear that; it must be the flu season now in New York.  I have people there, and they tell me that October and November are always the worst.  I hope it blows over soon.  I always find that drinking very large amounts of green tea helps a lot.
I would be extremely pleased and honoured if you reproduced my letter on your blog.  The idea that you value my observations is a colossal encouragement to me as a writer, and being able to read my own words on your web pages would really mean a very great deal.
I have always wanted to go into a Zoroastrian fire temple, and almost got the opportunity this time in Pune.  One of Ivy da Fonseca's friends is a Zoroastrian, and Ivy thought she might be inclined to show me around.  Unfortunately she was out of town for the week, otherwise that would have been another new experience for me on this trip.
I am interested in the idea of it as a linker between Vedic Hinduism and the monotheisms of Western Asia.  One of the things I find attractive about Hinduism is that its conception of the relationship between life and death is so immensely complicated, which I believe actually to be the case.
When I was a monk in Burma, I had a peculiarly concrete experience that confirmed it, at least for me.  I had been in the forest at Hmawbi for almost three months, rising at three in the morning to meditate, eating some rice and dhal at ten thirty, then meditating through until about seven with a pause for a coke or a seven-up at three (always raised my spirits to see these international brands on the monastery, and to imagine the juggernaut of time plunging onwards outside the walls without me).
Of course we weren't allowed to speak, and after a while it became difficult to anyway; it's not only that the vocal cords lose their strength, but that the mind also seems to lose the skill of stringing words together and adjusting the grammar automatically as it goes – I suppose speaking is like walking; one doesn't realise how difficult it is until one has to learn to do it all over again.
In any case, the experience I had was very fleeting indeed; it lasted an eighth of a second at most.  This will sound rather prosaic, but what I saw was something resembling a gigantic and inconceivably complex plumbing system – there really isn't any other visual equivalent that I can think of – with pipes twisting around one another, going up, down, sideways.  In some places there were reservoirs; in others, what seemed to be perpetual loops.
There was no gallery card or 'frame story' attached to what I saw, but what I took away from it was the idea that when it comes to an individual's 'soul' or 'monad' (or what have you), entire basis of its situation after death is very different in each case.  This shocked me rather, as most religions – particularly monotheistic ones – are rigidly egalitarian as in 'if you do that, this happens; if you do this, something else happens'.  Equality of beggars and kings; death as a great leveller – something that can be understood by anyone.
But the plumbing system seemed to suggest that in fact different 'souls' move in their own, perhaps predetermined patterns after death, that these patterns are not necessarily compatible with, or even compatible with one another in any way at all; and that the 'system' (almost certainly the wrong word) cannot possibly be grasped in any satisfactory way by the rational mind.  I think that both Hinduism and (esoteric) Buddhism, with their staggering ontological complexities, are the only religions that have really accepted such a view of things and have attempted to express it.
I am back now in Goa.  I was a bit bruised after the 14 hour bus ride (optimistically named a 'sleeper') from Bombay, and so it was excellent to be able to lie down properly.  Those bunks on the sleeper buses give you an idea of what it might be like to be in a coffin, and made me think that cremation is definitely the way to go.  I didn't have to take the bus, but I thought I would learn more if I did, and it was very interesting to look undetected at the life in the streets from my elevated little window as the vehicle juddered through the sprawling outer parts of Bombay.
Very best,
Rupert